PDMAG Art Doll Shop
Welcome to the PDMAG Art Doll Shop. Here you will find special offerings from our members. These are all hand made one of a kind Art Dolls of the highest craftsmanship. To be a PDMAG member an artist must display a proficiency of skill and professional consistent craftsmanship. Our members range in skill from Intermediate, to Master.
We also have our Doll makers Academy where novice artists work with our Master artists to polish their skills to intermediate or higher.
This gallery is a test of the sites new shopping feature. These are dolls that are available from a couple of our members as we test this sales feature. They are being offered here for sale direct to the public. Please give us some feedback and let us know if you have seen these listing and if you would be interested in seeing more dolls listed on our website for sale.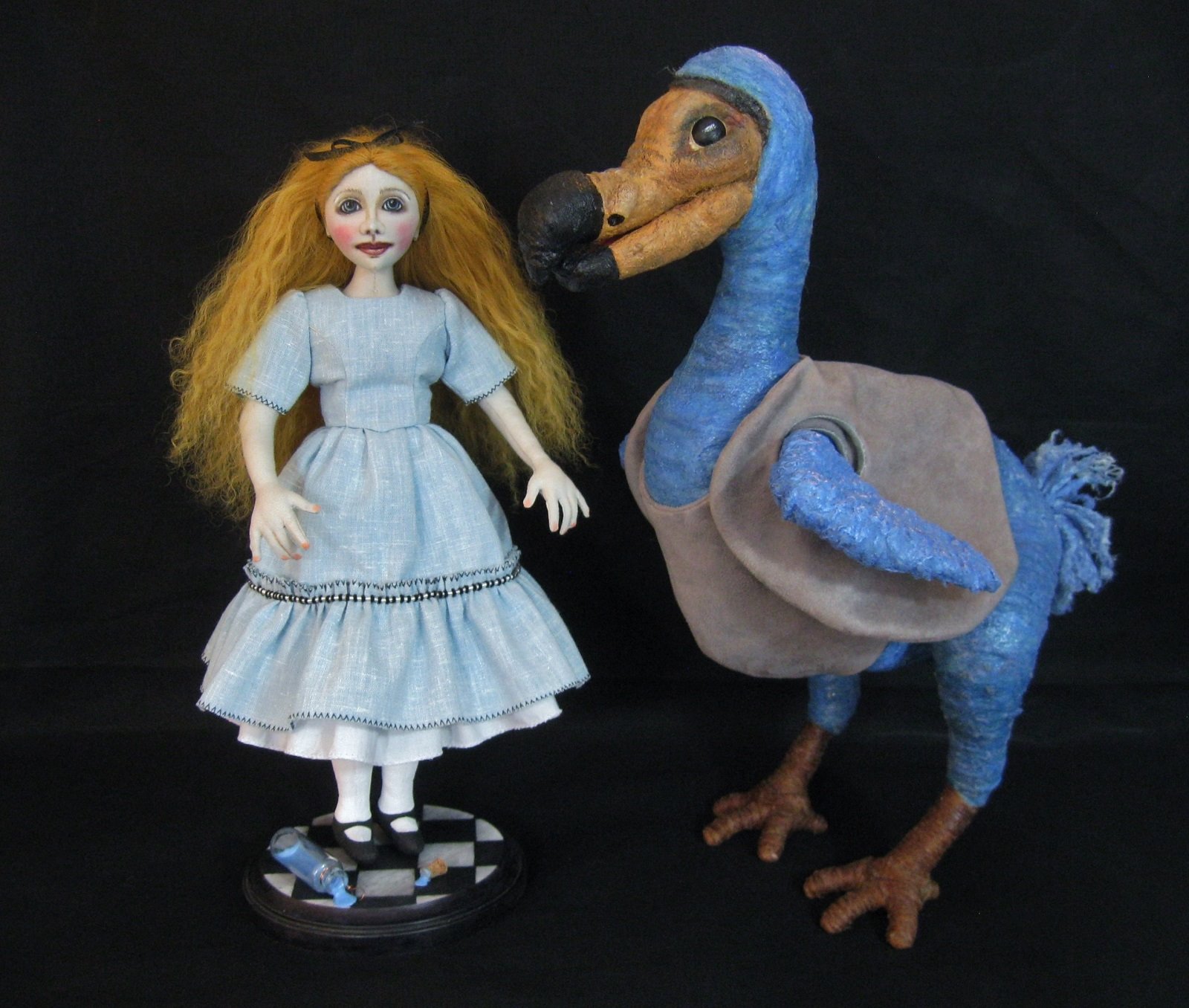 Alice and the Dodo by Bethann Scott
The doll's name: Alice and The Dodo Description: Alice is an all cloth doll made of cotton that stands 13″ tall. She is wearing a two piece blue linen skirt and bodice outfit with ruffle trim. Her underpinnings consist of a white cotton ruffled petticoat and pantalets. Her wig is hand made by me using Tibetan lamb's wool in a golden blonde color. Beside her foot lay a small glass potion bottle. The round wood plaque has been hand decorated in a black and white checkerboard pattern. The Dodo Bird stands 15″ tall and is made of spun cotton and wool over a wire armature. He is wearing a brushed velveteen vest and matching jacket. The Bird's wings and mouth are jointed and can be gently posed. Hand Made: The two dolls, Alice and The Dodo, are hand made by me and are my original designs.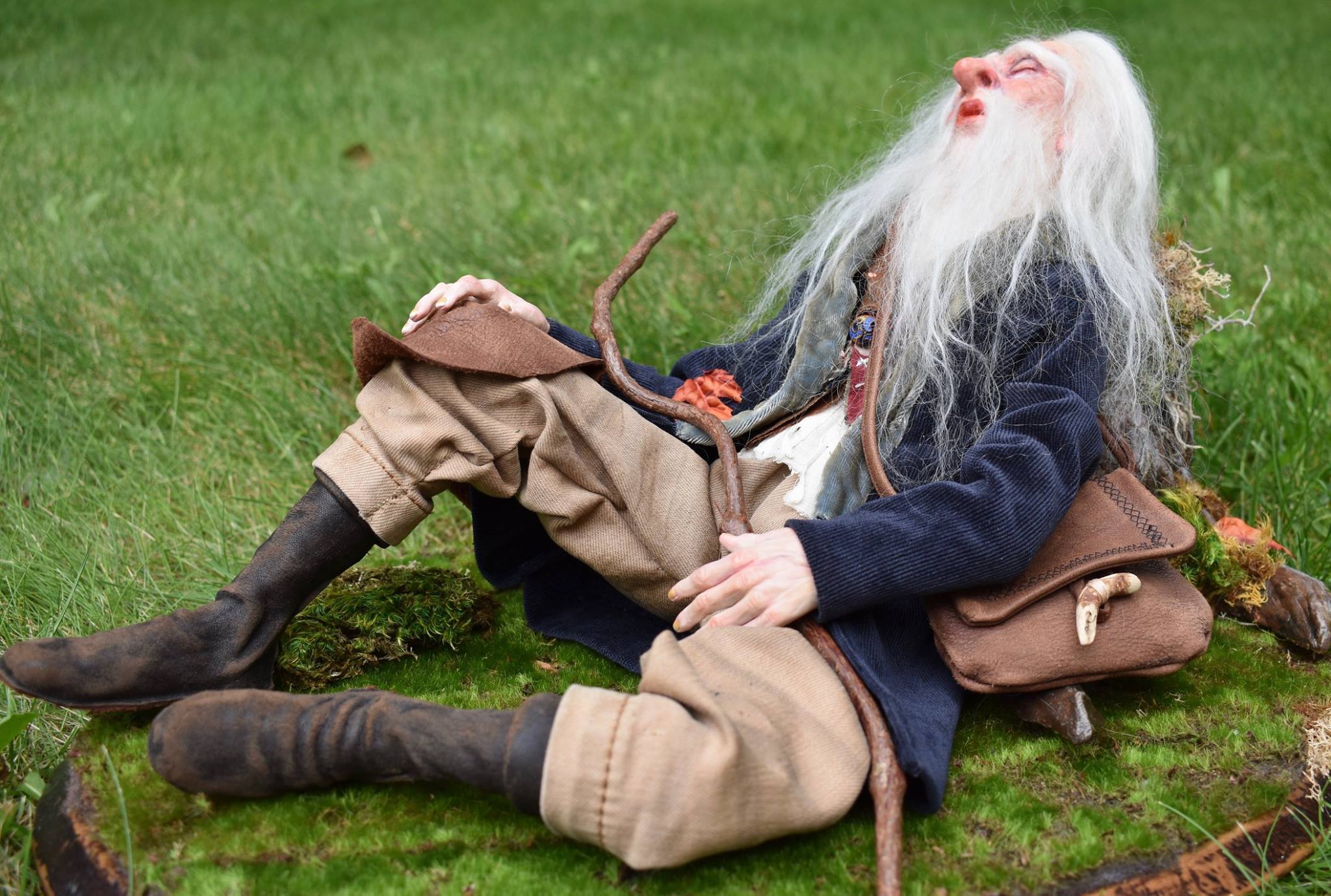 Rip Van Winkle by Marguerite Noschees
Doll Name: Rip Van Winkle
Description: Meet Rip Van Winkle…Once upon a time there was a friendly ne'er-do-well known as Rip who lived in the Catskill Mountains…well one day ole Rip ventured into the forest not to be seen again for twenty years.. Poor soul….Rip is made of ProSculpt Polymer Clay over wire armature with a soft sculpt torso…If he stood he would be approximately 23 inches tall. He is painted using fine artist acrylic paints and pastels, his hair, beard, and brows are of Tibetan Lambs Wool, he is dressed in fine vintage materials velvets, cottons, and leather. He carries his old leather satchel and rests his leather hat upon his knee. He wears leather high boots. He carries an old walking stick. He sleeps on a magical tree stump made of air dry clay and painted in acrylic paints, decorated with moss, and fauna. His base is vintage wood.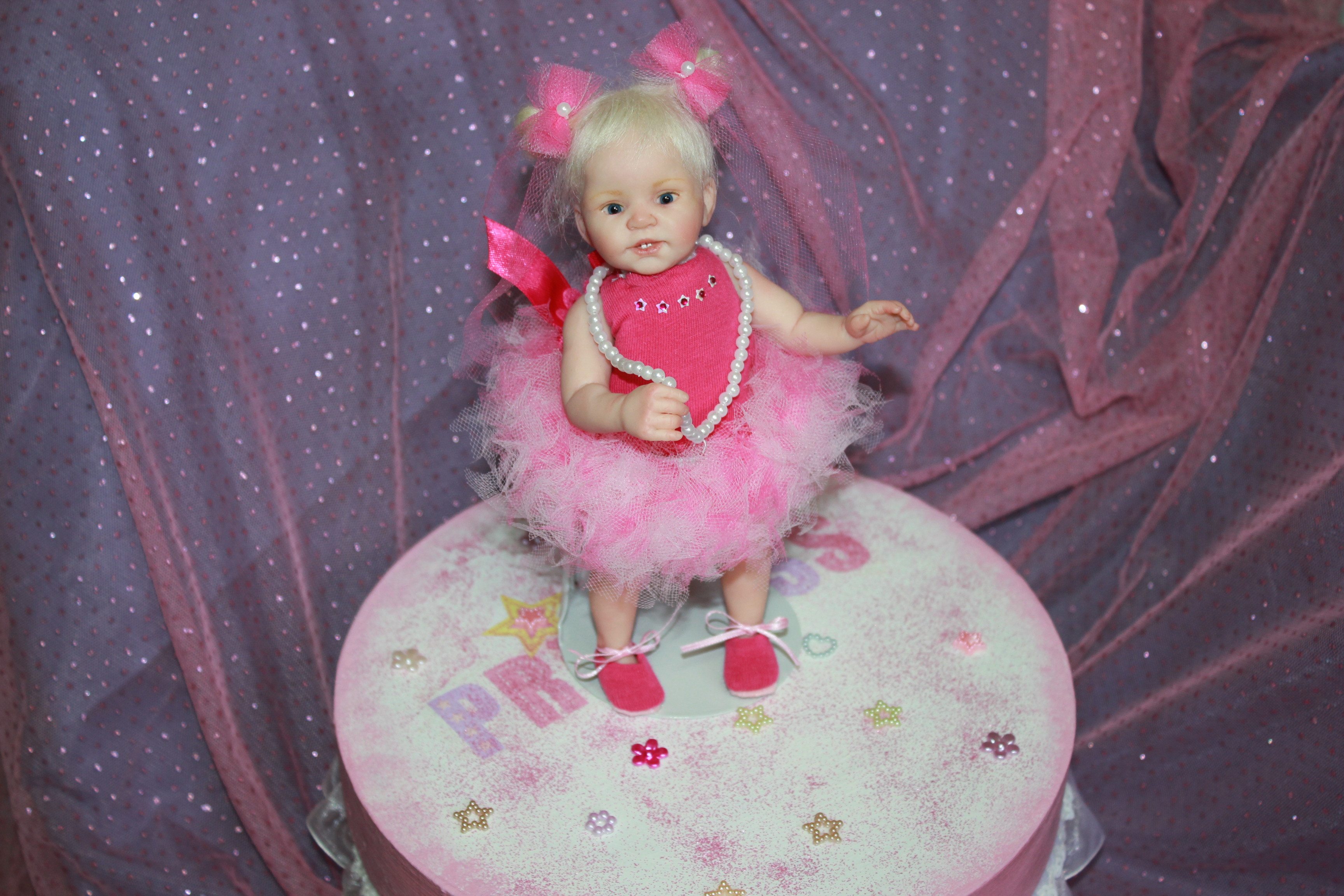 OOAK 7" Polymer Clay PolyToddler by Kellie Beckett
OOAK  7″ Polymer Clay PolyToddler by Kellie Beckett
Hand sculpted polymer clay toddler doll.
Pale Blonde mohair wig cured into the clay, soft body, full limbs, with blue glass eyes.
Sits alone and stands with assistance.
Artist Decoupage Gift/Display box included.
Will come with COA and both outfits shown.
A $15 credit for International shipping instead of free shipping.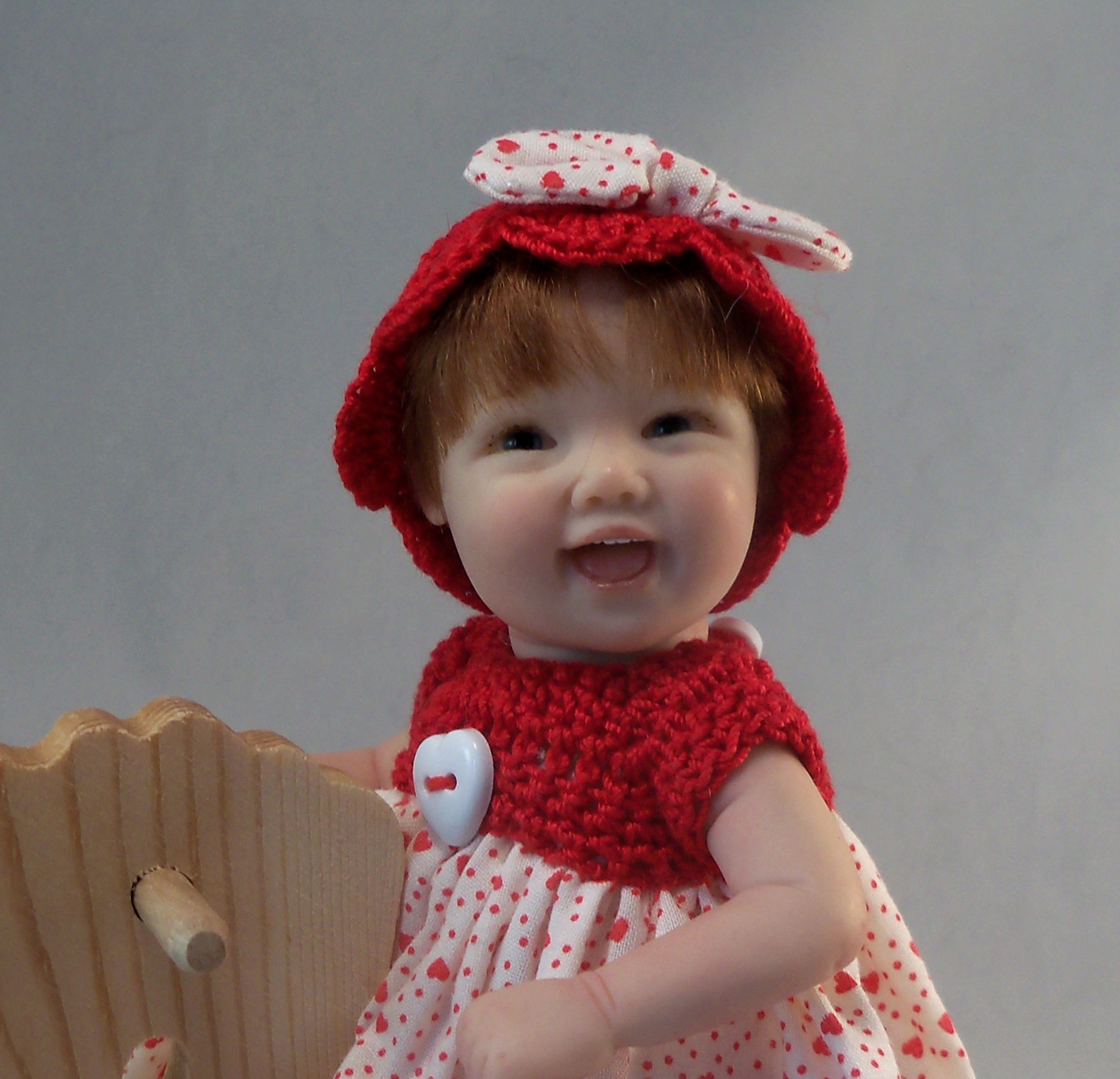 Sweet Little Carly by Melinda Wood
Sweet little Carly
description is:  "Sweet little Carly is a partial sculpt doll.  Her head, arms and legs were sculpted from polymer clay, painted with heat set paints and then attached to a soft cloth body.  There are lots of detail packed in this 6 1/2" little girl.  She has a sweet smile and cute tiny little teeth.
I am proud to say she is also a 2017 Industry's Choice Award of Excellence Winner."
I'm thinking $225.00 for price + $10.00 shipping.  Shipping is quoted for inside the Continental US. Please email for shipping outside the US. mindysfairies@comcast.net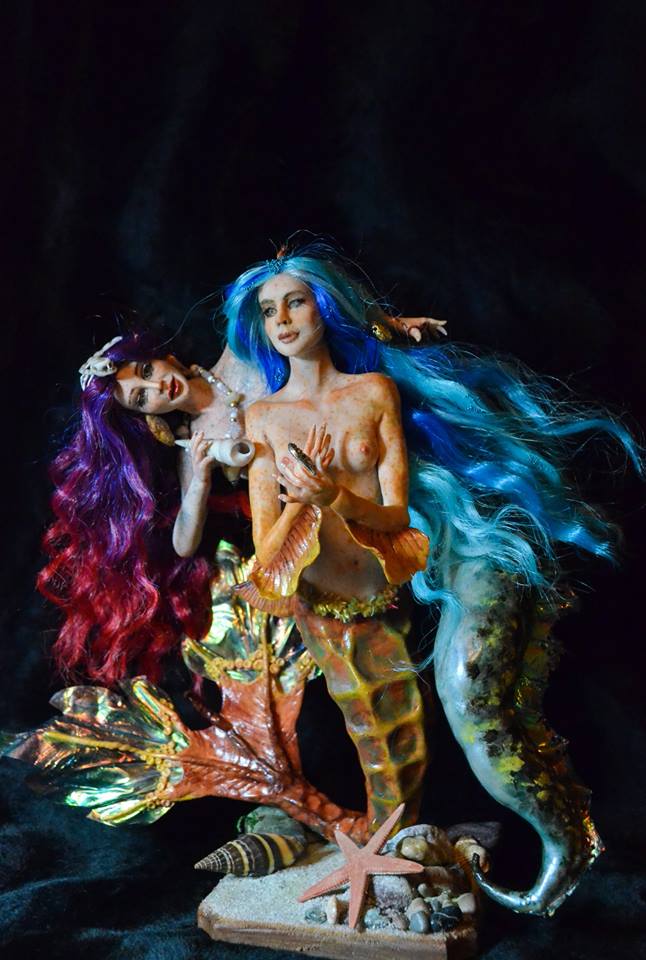 "The little Mermaid" by Giannini Murielle
The Little Mermaid and the Sea Witch
This is a caption of a moment of the Andersen tale "The little Mermaid" In the original story the author do not paint the sea witch as a really bad being as in the Walt Disney cartoon… in reality The little Mermaid went to pray the sea witch to change her tail for legs. The moray sea witch advises her it was not a very good idea and more than the lost of her magical voice it would have been very painful too (like walking on sharped knifes) This represents the moment of our choices in life, these kind of choices which leads us to our destiny. The Little mermaid was sure of her choice even if it could have driven her to her death…It makes us think about how the fact that sometimes what we want is not what we really need. Dolls scale 1/8 about 22cm polymer clay and mixed media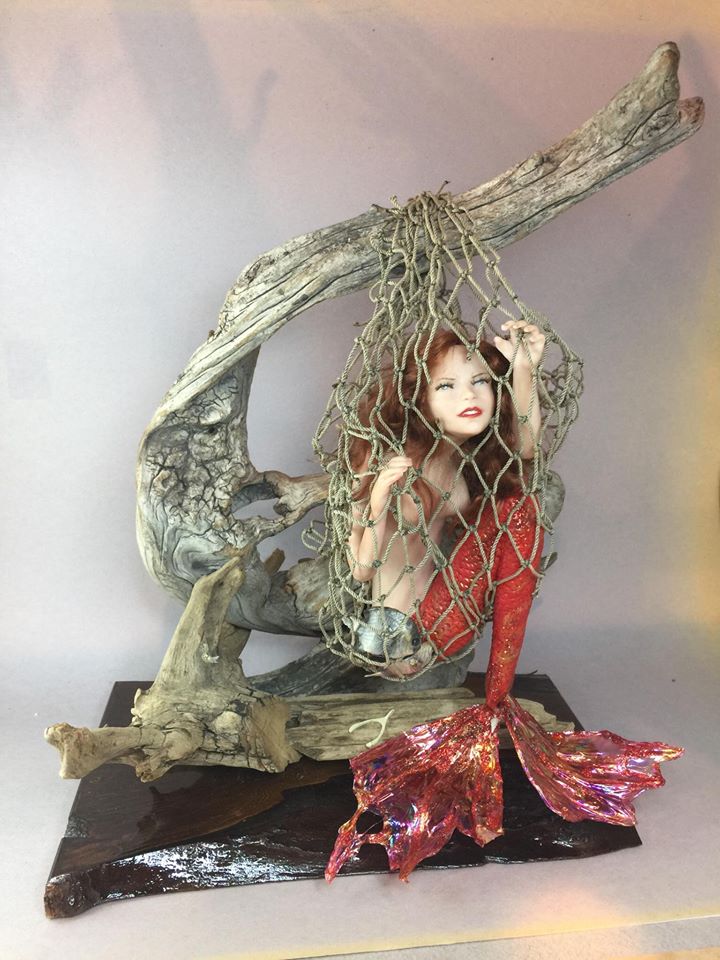 Title "Trapped"
The piece is a metaphor inspired by a homemaker who takes care of her ill mother and troubled daughter, while dealing with a controlling husband. Her two fishes by her side also waiting till this woman decides to get out of that situation… The doll measures 7.5 in in her position, the highest point of the piece is 13 height by 9.5 x 7. She is not permanently attached to the base which made of a slab of wood and piece of driftwood. 2 fishes are dried. She had green clay hand made eyes.
Price:  499.00 with 30.00 shipping in the United States.