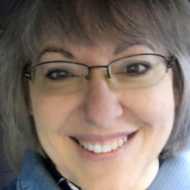 Learn more: http://www.NeedleFeltArt.com
Etsy Shop: https://www.etsy.com/shop/NeedleFeltbyCherie
For over 25 years, I have loved being a professional copywriter and web content copyeditor by trade. Now, my passion lies in sculptural needle felting, using wool sculpted with handheld barbed needles. I love creating OOAK figurative sculpture and art dolls in natural wool fibers. It's a fulfilling, creative art, and the actual technique is essentially the same principle as any art doll sculpt, with the biggest exception being, there is no armature, only firmly needle felted wool fiber. When I start a doll, I am alive, and so excited. The entire process is one of my favorite experiences, and I don't care if it's a fantasy doll, character doll, a creature, baby dolls, fun and silly characters, or realistic dolls, such as human look-a-likes. I have the same passion for every single project, from the moment I pick up my needle, I am in a creative bliss!
I started my artistic and creative love affair learning to sew at age eight. At 13, I was supplementing my allowance by mending and some dressmaking. I opened and ran a small dressmaking and mending shop in the 1980s, and all the time I was dabbling in, learning, and loving almost every type of artistic medium possible.
A few years ago I decided to start a small hobby shop online, part-time, hoping to use that as my eventual retirement plan. I began it making original cotton rag dolls with fabric painted features... then, I learned about sculptural needle felting. I'd loved clay and ceramics, and the sculptural element fascinated me. Now, it has become my obsession, passion and rest of my life pursuit.
It is the most fascinating challenge, with absolutely endless possibilities! I love the simplicity and artisan experience of using only wool (or natural) fiber and hand-held felting needles. I've tried various mixed media but keep coming back to the purity and special challenges of only creating in wool...and now it's a personal goal to push the possibilities of just wool, and see how detailed and interesting I can be with wool fiber. The challenge of it is exciting and the results are exceedingly satisfying. Creating custom and heirloom pieces, re-imagining classic movie monsters...whatever my imagination comes up with...it's all in a day's work for me now. How fantastic is that?!
Etsy shop: https://www.etsy.com/shop/NeedleFeltbyCherie
Website: http://www.NeedleFeltArt.com
This user account status is Approved
Albums