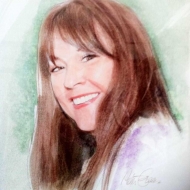 I have never stopped loving dolls. I just began this adventure in late 2011. This endeavor utilizes several creative skills I have learned in the past, as well as the continuation of learning, due to many varied medium challenges this art form presents. For example very small clothes patterns.
I have sewed since high school, so in making the various outfits that came in handy, as well as the construction of soft bodies. Anatomy and the making of wire armatures. Finding and styling the right mohair to make the wig. Working with polymer clay, sculpting.
I used to oil paint the Masters of the Impressionist period, which helps when painting the dolls as well as inspiration from the various characters from those paintings and period. Then there are the vignette settings which brings in the miniaturist and wood working skills.
So, never without a challenge. I like to make real characters, people of the past and present. Childhood memories inspire me. I love to create a portrait sculpt of a person of good will, for a fun surprise and tribute. I hope to continue perfecting this art form for the rest of my life. It is a labor of love, in the band of aesthetics, what could be better.
Art dolls are dolls created by artists and intended as expressive and unique art objects rather than children's toys. Art dolls made by professional artists may be considered fine art . Made using a wide variety of styles and media, some are abstract or tribal, while others are incredibly realistic. They range from dolls with pre-manufactured parts to being wholly fabricated by the artist or sculptor. The term "art dolls" usually refers to human-like dolls, but not always. Art dolls can depict animals, mythical creatures, or abstract beings.
Art dolls differ from mass-produced children's dolls. Even though the word doll is attached, art dolls are not playthings. Art dolls are made by artists as an expression rather than to create a child's play toy…Wikipedia
Visit me at: https://colleensartdolls.com/
This user account status is Approved